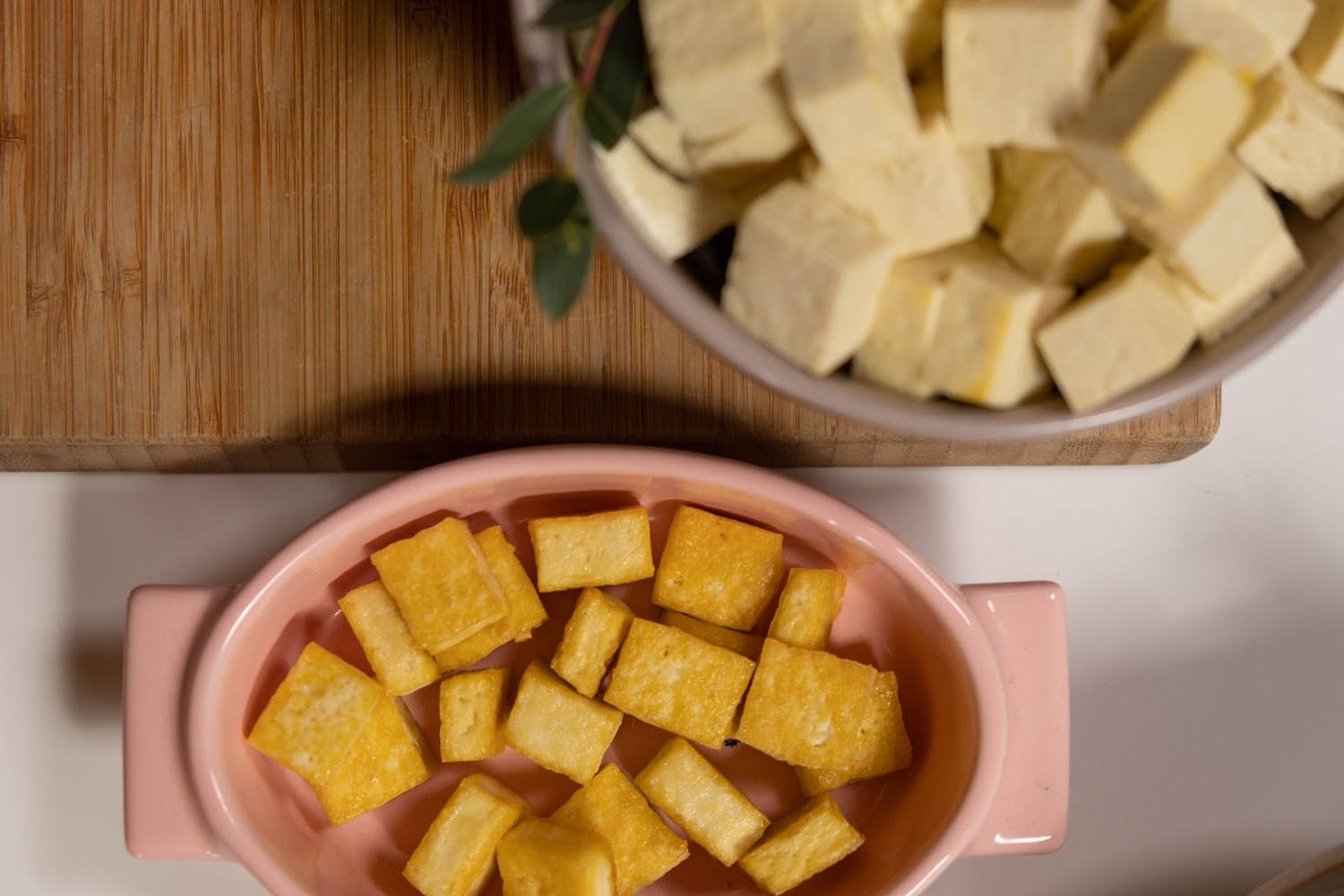 Salt & Pepper Tofu Recipe
Difficulty Level:
Easy
Preparation Time: 1/2 hour depending on vegetables
Cooking Time: 10 -15 min 
Marinating Time: minimum 30 min (3 hours ideal)Serves 4-6

 
TOFU
500g block organic tofu, chopped into 3cm squares each about 1cm thick
1 green and red chilli, sliced thinly on the diagonal
1 tbsp fresh crushed garlic
1 tbsp tamari
1.5 tbsp coconut oil (or other good quality oil)
1 tsp sea salt
1 tsp cracked black pepper
Mix all ingredients into a bowl until well combined and tofu is coated. Cover and refrigerate until needed.
FRIED RICE
3 cups steamed brown short grain rice (whatever you have in the pantry will do)
2 cups lightly cooked veggies: I used Broccoli, Kale, Mushrooms and tomatoes (You can use anything, if you have left over veggies from the day before, chop them up and throw them in)
1 brown onion, finely chopped
1 tbsp each of fresh ginger and garlic crushed
1.5 tbsp good quality oil
Tamari to taste
METHOD
1. In a wok or heavy based saucepan (or on the bbq! – no I'm not kidding its great for making stir fries) Add oil, then onion. Sautee until translucent in colour, add the garlic and ginger, stir constantly again 1 min.
2. Throw in the veggies and stir until just slightly warmed through, add the brown rice and tamari.
3. Continue stirring until all the veggies have mixed through the rice evenly and you have tested the rice for flavor.
4. BOOM! FINITO! Now put the rice onto a serving plate and cover with foil while you finish off the tofu.
5. Keeping the pan hot, put half the salt and the pepper onto the pan, it will start to smoke and pop a bit.
6. Now add half the contents of the tofu bowl to the pan. Make sure you get the chillies and garlic in there too, these will blacken and that's where you
get the flavor fun!!!) Also the tofu to be laid singularly so the whole square who gets to cook evenly. Needs about 1.5 min either side. Once
cooked on both sides, stir around for a min then scoop onto a serving plate.
7. Repeat with remaining tofu.
8. Dig in with the rice!!!
---