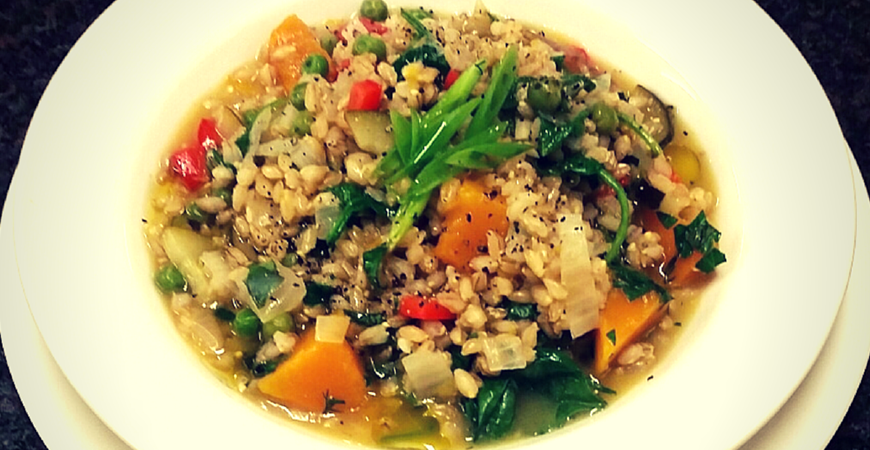 Pearl Barley Risotto Recipe
Pearl Barley in Ayurveda has slightly sweet and bitter tastes. Strengthens the spleen and pancreas, regulates the stomach and fortifies the intestines. Builds blood and yin fluids and moistens dryness – Pearl Barley also benefits the gall bladder and nerves, is easily digested and is an excellent diuretic!!
Degree of difficulty: Easy
Soaking Time: 3 hours minumum
Preparation Time: 20 min
Total Cooking Time: 1 hour 20 min approx. (The pearl barley will take this long to cook in the risotto)
Ingredients
1 cup Pearl Barley Soaked 3 hours minimum
I brown onion, chopped
1 tsp garlic, crushed
2 tbsp olive oil
1/2 cup white wine (optional) You can omit this step in the recipe
200g peeled and chopped pumpkin
150g Zucchini Finely chopped
100g reg capsicum, finely chopped
1/2 cup peas
1 handful English spinach
1/2 cup fresh herbs – I used chives, Basil and Parsely (optional)
1-1.5 Litres of vegetable stock, warmed
Sea Salt and Cracked Black pepper to taste
2 tbsp olive oil extra
Method
In a heavy based saucepan, add olive oil.
Add onion and stir until transclucent and cooked through. Add garlic and cook a further 1 min. (If your using wine, add it in here, and simmer until liquid has reduced by half. )
Add the drained pearl barley to the pot and stir for 1 minute.
Add about 500ml of the warm stock stir well and cook barley, uncovered on a gentle simmer.
After approximately 10 minutes, check and add more stock if it is running low, stirring gently. Continue this way, adding stock as needed for about 20 min until the barley is about half cooked or slightly "nutty"
Now add all the vegetables at once, stir through gently, adding more stock to the pot.
Continue simmering and adding stock to the pot as the barley expands. This will take around 1 hour – 1hr 10 min
If the mixture is to runny, just continue to cook until the liquid reduces – Its very hard to overcook barley. If its too thick, then just add a little more stock.
Once the barley is cooked, add fresh herbs if using and spinach, salt and pepper to taste and extra olive oil.
Stir through.
The colours look magnificent!
Using a soup spoon, spoon into bowls for a hearty, warming nourishing meal for the whole family!
*You can use any vegetables you have in the fridge, around 2 cups in total
*If you are not vegan and are ok with dairy, then add 2 tbsp good quality butter instead of olive oil and 1/4 cup of grated feta through before serving!
---