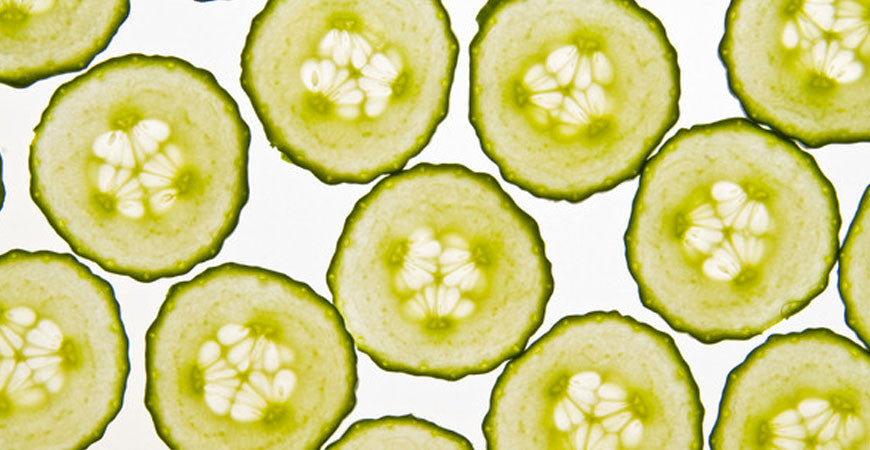 Cool as a Cucumber!
Native to India, cucumbers have been cultivated for thousands of years. The skin is rich in silicon and chlorophyll. Eating cucumber 'skin-on' enhances its medicinal virtue. You can eat it, add it to juices and use it externally on the skin.
It's incredibly refreshing and indeed is the perfect vegetable for summer, Pittas and hot climates. Ayuveda recommends using black pepper with cucumber for Vata to counter its coldness.
Cucumber is a diuretic, it slows the movement of food through the intestines, counteracting toxins and lifting depression. It cleanses the blood, influences the heart, spleen/pancreas, stomach, and large intestine.
It quenches thirst, moistens the lungs, purifies the skin and treats the effects of summer heat and dryness.
You can apply the juice from cucumbers to relieve all burns, especially sunburn! Drink the juice to help treat kidney and bladder infections. Consuming whole cucumber or its juice cools most other inflammatory or heat conditions, including stomach inflammation, conjunctivitis, sore throat, acne, inflamed skin diseases and discharges.
A pack of grated cucumber placed on the face beautifies the skin. If placed over the eyes, it relieves hot, inflamed, swollen, dry, or irritated eyes.
Cucumber contains erepsis, a digestive enzyme that breaks down protein and cleanses the intestines. This property also enables cucumber to destroy worms, especially tapeworms.
Caution: Cucumber is not recommended for those with watery mucus or diarrhea.
Dosage: 150g of whole cucumber daily or 1 cup of juice.
---