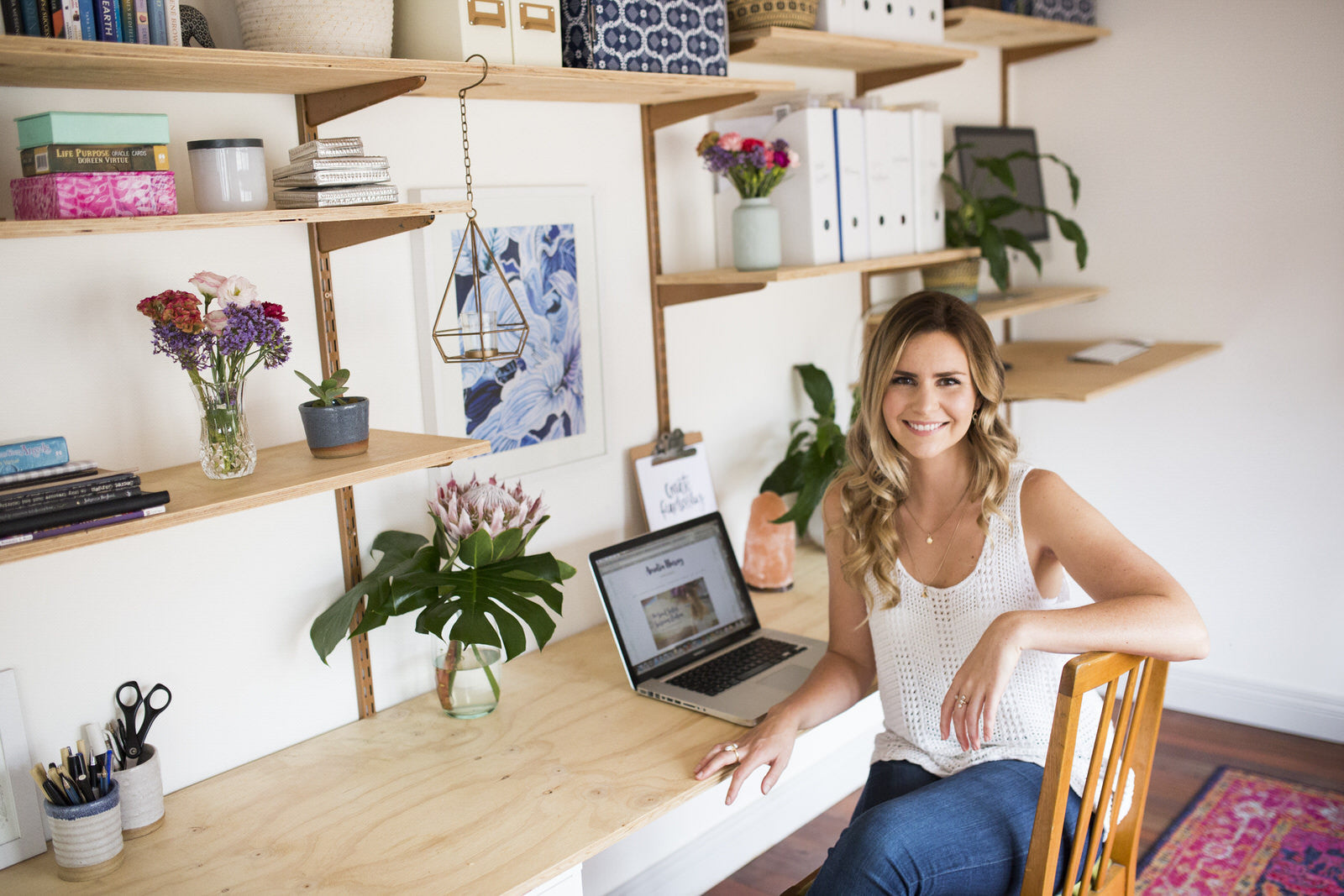 Introducing...Amelia!
We get the opportunity to interact with some wonderful people as part of our day to day life at Wholistically Healthy - and we wanted to share some of the amazing folks we admire with you all!
In this post we had a chat with Amelia Harvey!
First up, tell us a little bit about yourself
Hello! I'm Amelia and I'm a Life Coach. I guide women from inner critic to inner peace through my private coaching, blog, events, and online program. I teach women how to connect with their intuition and embody self love.
What does your daily health & wellness routine consist of? 
First thing in the morning I head out for a walk with my pup, Alfie – it's such a nice way to start the day. When I get home, I make myself a cuppa and sit down to meditate, journal, and pull some angel cards for the day.
I try to schedule my work day with plenty of short breaks where I get up from the computer and I take at least 30 minutes for lunch to switch off my devices and eat something nourishing. In the afternoons I usually have my one-on-one client sessions, which I love!
As well as daily walks I try to get to a yoga class or two every week and fit in some strength training or a run. I do what feels good based on my energy levels and how I'm feeling.
In the evening I like to spend time with my man, pets or friends and I'm doing a pottery course one night a week at the moment. I love having designated time for creativity – it's so meditative!
What draws you personally to a plant-based diet?
I feel great when I eat lots of plants – I feel energised and like I'm looking after myself. I love picking up what's in season at the farmer's market and getting creative in the kitchen. I don't exclusively eat plants (I include ethically raised and organic animal products) but I love how creative I can be with plant foods – there are so many options!
If you could take only one of Wholistically Healthy's meals to a desert island (to eat every day until you were rescued!) – which one would it be and why?
The Vegan Lasagne is amazing – it's so tasty and I feel really energised after eating it.
How do you most like to use the WH meals? 
I love having them as a super easy dinner – it really frees up my time in the evening. My partner works away about 4 out of every 10 weeks so it's nice to have a go-to dinner that doesn't require any prep time while he's away!
Perfect for something to eat after a yoga class or workout.
Aside from having your meals delivered, what are your other favourite ways to take care of yourself in Perth?
I love grabbing a coconut matcha latte and macro bowl from Pearth Organic Kitchen in West Leederville. The Nourish Bowls at Pixel in Leederville are my FAVE, they're so good!
For amazing remedial massages I got to Emma at Life Ready Physio in Scarborough. I see Amy O'Brien for Chinese herbs and acupuncture, Charmaine Doonan for kinesiology, and I've just started working with Brooke Venables who is a Naturopath at Miskin Clinic. She's helping me get my hormones nice and balanced and iron out some niggling skin issues.
My favourite beach is North Cott dog beach, I am always there with Alfie in summer – it's my happy place! There's a big park near our house in Leederville which is my go-to for a quick recharge when I'm working from home.
Do you have any secret tips you use to keep looking / feeling great?
Paying attention to my menstrual cycle helps me feel great and be kind to myself. It's kind of a 'secret' because so many women aren't tuning into their cycles. Before I started observing the different energy levels and moods I'd experience at different times of the month, I would beat myself up for not being consistent or not feel like socialising sometimes.
I made a video that goes through the phases and how life changing this approach has been for me below.
How do you like to relax? What are your nighttime rituals to help you wind-down & get a deep sleep?
Sleep is basically my number one self care practice – if I'm not sleeping well it impacts every other part of my life! In the evening I like to have a shower or bath with lavender essential oils and candles, then I hop into bed with a novel and I read until I feel sleepy.
I try to turn my phone onto airplane mode and switch off the computer or TV an hour or so before bed most nights which definitely helps.
And finally, we <3 veggies! What's your favourite vegetable that you just can't live without, and your favourite way to have it? 
I'm loving cauliflower at the moment – it's so versatile and perfect for roasting and soups in cooler weather. I'm currently trying to perfect the cauliflower pizza base!
I love Jess Sepel's recipe in her Healthy Life cookbook.
Want to know more? Make sure you follow Amelia on Instagram, Facebook or Snapchat on ameliamharvey!
---