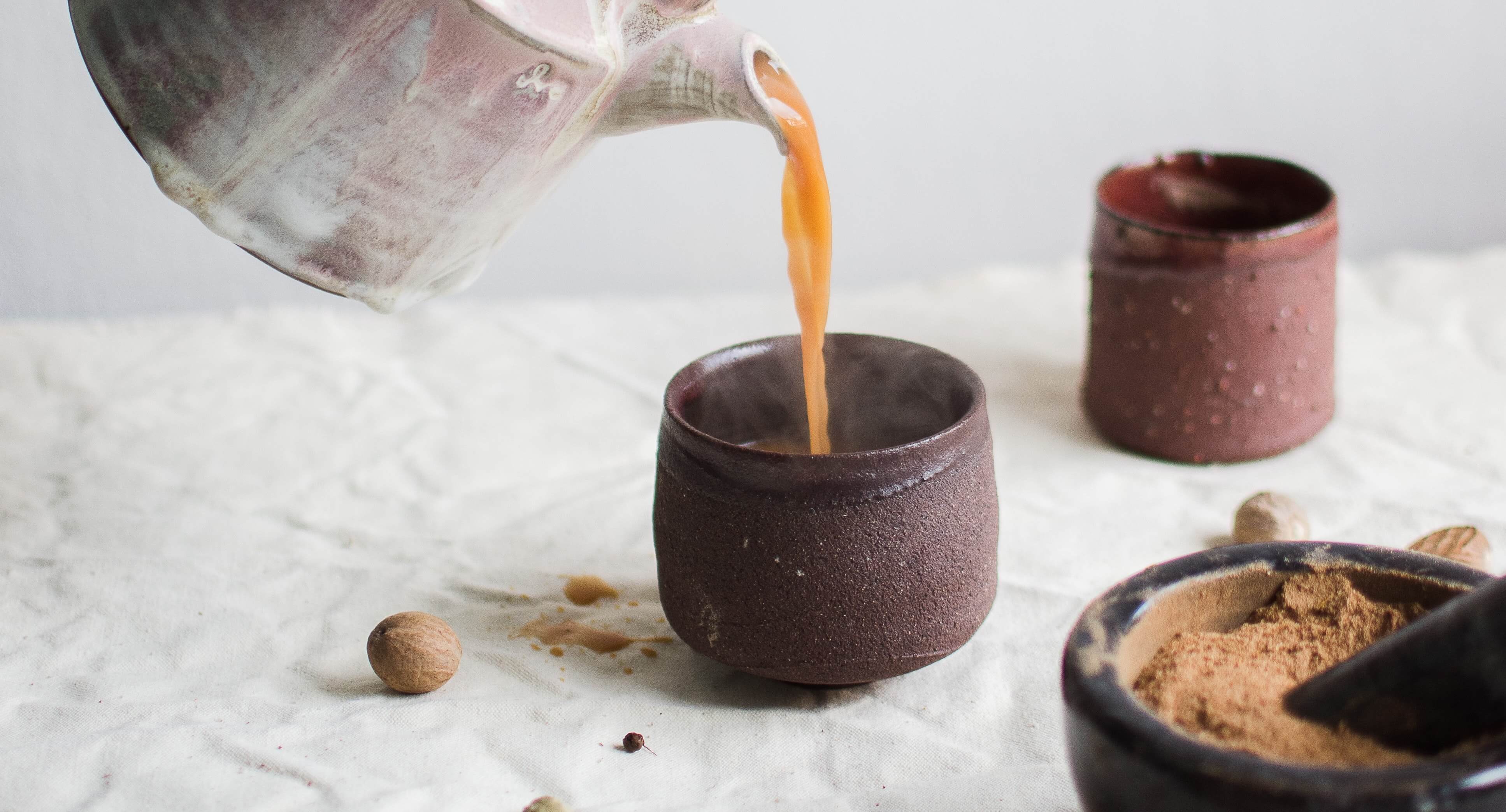 Ayurvedic Winter Warmers
Want to give your immune system a boost now that the weather has cooled down? Our Ayurvedic Winter Warmers are just the ticket to warm you up and strengthen your immunity for the months ahead.
The winter season holds the perfect antidote to the fast-paced mobility of the Summer and Autumn. This is a time to rest, reflect, hold space, vision, hibernate, and withdraw some of your outwardly-focused energy and redirect it inward.
What Is Kapha Season?
While we typically think of the seasons as spring, summer, fall, and winter, Ayurveda divides the year according to the most prevalent dosha during each period. The fall and early winter are considered the Vata season, with Kapha making its appearance in the latter part of winter. Kapha season lasts from the second half of winter through spring, and in many areas that means plenty of wet weather even as the summer approaches.
Ayurveda recognizes winter as a kapha season with strong vata undertones. It is characterized by cold weather, a sense of heaviness, increased moisture (usually in the form of rain or snow), cloud-covered days, and the grounded, slow feeling that sends many animals into hibernation. These are all qualities shared by kapha dosha, which is why winter is considered—primarily—a kapha season.
Know Your Type.
To maximize the benefits of an Ayurvedic diet and reap the benefits of enhanced immunity, deep sleep, and a stable mind, it is important to plug into the knowledge of your body type.  
Vata types, because they are by nature more cold and dry, must follow vata-balancing eating guidelines in winter more attentively than a pitta type, who is by nature hot like summer. 
Kapha types are by nature heavier and carry more water. Heavy, oily foods will only make their heavier, solid body type heavier and possibly more congested in winter.  
Knowing your type and season will allow you to tailor make your diet to deliver the most effective result. Start to learn how to balance your body type with food by reading our blog Discovering Your Dosha.
Creating A Supportive Winter Diet
Winter is actually the season when the digestive fire is strongest. The body requires more fuel to stay warm and healthy in the winter months, and the cold weather forces the fire principle deep into the core of the body—igniting the digestive capacity. Our bodies, therefore, crave a more substantial, nutritive diet at this time of year, and you will likely find yourself eating larger quantities of food.
A supportive winter diet will be aimed at pacifying kapha without increasing vata or vice versa. For many, appropriate winter dietary habits actually come quite naturally.
Butternut squash is synonymous with health, wealth, abundance and heart, which nods to this vegetable's heartwarming and nourishing qualities. Ayurveda embraces the medicinal properties of healing spices in cooking all different types of foods, primarily to aid in digestion.
Winter Warming Kapha Soup
This is a warming winter classic so stock up on ingredients and get cooking. The long list of vital vitamins such as A, D and E will keep coughs and colds at bay and being suitable for all dosha types, this soup is sweet, rich and creamy and warms the body from the inside making it a staple lunchtime meal as the colder weather settles in.
1 butternut squash, cubed

1 large carrot, sliced, about the same thickness as the pumpkin

Greens of one small leek, sliced (about a handful). I often use the leek greens in soup but you can also use the white part of course.

1 tbsp olive oil

1 piece of fresh ginger the size of a thumbnail, peeled

1 tsp cumin

1 tsp turmeric (I use double strength turmeric powder but normal will do too)

½ tsp cinnamon

¼ tsp asafoetida (hing)

Juice of 1 orange

Black pepper and rock salt to taste
Method:
Melt the ghee in a large soup pot over medium heat. Add the diced onion and cook until translucent. Stir in the ginger and all of the spices, and sauté for 1 minute.

Add the Pumpkin and carrots and broth and bring to a boil. Reduce the heat to low and simmer until the pumpkin is soft.

Transfer the soup to a blender and puree. Return the soup to the pot and cook for one more minute.

Serve the soup in bowls and sprinkle with lemon zest, a drizzle of olive oil and add a sprinkle of pumpkin seeds.
Immune Boosting Latte
This Latte uses the goodness of turmeric and nuts to provide the nourishment and immunity during winter. Honey is very beneficial to control symptoms of cough & cold and to increase immunity. Can be used as a snack or to complement a meal.
1 teaspoon of honey

½ teaspoon of turmeric

4 Almonds

4 Cashews

1 cup of milk of choice. Vegans and people with lactose intolerance may use coconut milk
Method:
Warm 1 glass of milk. 

Add turmeric powder and crushed almonds and cashew to the milk and let it boil for 2 minutes. Keep stirring. Turn off the stove once the aroma comes.

Mix 1 tablespoon of honey and drink warm.
Have this recipe in the morning to beat winter ailments. It also acts as a natural sweetener helping you to curb your sweet craving.
Ayurvedic Teas
Instead of looking for exotic and expensive tea blends research and judiciously experiment with regional and seasonal produce. Going back to our roots and exploring ancient food traditions is a sustainable solution to protect life and the planet. 
We recommend the following ayurvedic winter tea recipe, especially made with Ajwain seeds, also called carom seeds as vata & kapha tend to aggravate during winters, causing lethargy, slowed digestion etc. So, the idea is to balance these two doshas to achieve optimum health.
Ingredients
1/4 teaspoon ginger (fresh grated)
1/4 teaspoon cardamom (ground)
1/4 teaspoon cinnamon
1/4 teaspoon ajwain (carom) seeds
¼ teaspoon black peppercorns
1 cup boiling water
Method
Mix the ginger, cardamom, cinnamon, peppercorns and ajwain seeds together.
Boil the water and then add it to the herb and spice mixture.
Steep the tea, covered, for five minutes.
Strain and discard the herbs and spices and serve warm.
Whether you relish the cool, dark nights of winter or can't wait until spring, staying healthy with foods and beverages that complement the season can make a big difference. If you are looking for a cozy cup of warmth to enjoy alone or with a companion, we hope that this sampling of Ayurvedic Winter warmers serves as inspiration and nourishment.
---