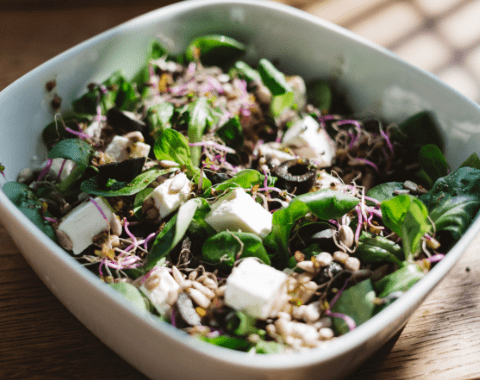 5 Ways to "Beef" Up Your Salad (and stay full for longer)
Is your lettuce, cucumber and tomato "garden" salad leaving you in a slump after lunchtime? How often do you head off to work with leafy greens stuffed into a container, then 3pm rolls around and you can't help but reach for a chocolate bar? Refrain from that café chow down, and keep your good intentions intact. We give you five simple tricks that will make your salad tastier and keep you full for longer.
1. Protein Punch
Adding protein to your salad will change it from a bland side to a star main. We all love a good chicken Caesar, but there are other ways of making your salad filling without relying on fatty croutons. Legumes are an easy way to "beef up" any meal, and there's plenty of options–chickpeas, kidney beans, black beans, cannellini beans, butter beans, pinto beans, and lentils. You can serve them in different ways, like baking chickpeas with cumin and paprika for a Moroccan flavour, or pairing black beans and corn to make a deconstructed burrito. The possibilities are endless.     
2. Cheesy
Cheese can make almost anything taste better, but when it comes to salad you need to be picky. Some cheeses will overload your plate with fat and calories, and others are too soft to "toss" with other ingredients, leaving you with a sludgy mess. Feta, goats, bocconcini and halloumi cheeses are our favourites. They're light, tasty and versatile. Cheeses provide a strong flavour to compliment fruit and vegetables, or balance out any distinct "stars" in a special recipe. If you're watching your calorie intake, just be mindful of how much cheese you're adding. 
3. Grain Train
It may seem counter-productive adding grains to your lunch when you're trying to eat healthier, but something like quinoa (¾ of a cup is plenty) will keep you full for longer, giving you more of a chance of avoiding the vending machine. Quinoa is considered a superfood for good reason. It's a "complete" protein, meaning it contains all the essential amino acids (building blocks of protein). It's also a source of fibre. The best bit about quinoa is that it soaks up all the flavours of your salad, especially whatever yummy dressing you've chosen. Barley, bulgar, brown rice and couscous are also worth trying.
4. Dress It Up
Store-bought French vinaigrette will forever be in our hearts but let's face it, classic dressings are over done. To make your own "bomb" dressing, you don't need to be a kitchen master mind. A few simple ingredients can go a long way. Minimalist Baker ( introduced us to this dressing favourite–3 tbsp tahini, 2 tbsp lemon juice, 1 tbsp maple syrup, ½ tsp apple cider vinegar and a little water to thin)– a nutty, sweet, citrusy taste bomb! For something a little spicier, try adding a tbsp of green curry paste to ¾ cup of coconut milk with lime juice, olive oil, and chopped cilantro. Your salads will taste all the more "sweeter" (or zingy) when you've taken that extra 10 mins to make your own dressing, and avoided the nasties store-bought bottles contain. 
5. Crunchy Texture
A delicious meal isn't just about flavour, it's also about texture. How does that salad feel inside your mouth? Not soggy, we hope. A little crunch can be good, especially when teamed with smooth salad ingredients, like avocado and cheese. Chuck some nuts in your salad and be done with it, literally, throw them in there. You can buy pre-chopped nuts at the supermarket, like walnuts and pecans. Not only do nuts "jazz up" your salad, but they add natural fats and protein too. Fact: Walnuts are the only nuts that contain high amounts of amino fatty acids, and ¼ of a cup contains 4 grams of protein. Try walnuts in your kale salad, and enjoy the crunch.
Bonus Salad Tip: Salads don't have to be raw. Try roasted vegetables. Carrot, capsicum, sweet potato and broccoli all taste divine roasted with a little olive oil, cumin, paprika and cinnamon.
---